W-Beam a rolled steel sheet formed into a rough "W" shape. It is used to form longitudinal vehicle barriers on roads and highways around the world.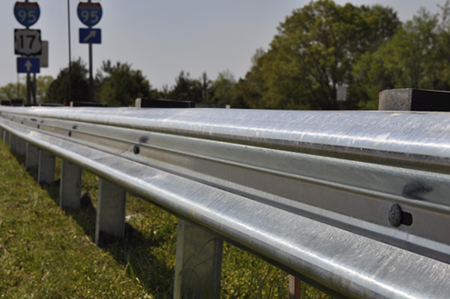 To Be Completed
W-Beam is found on the road in a variety of configurations:
W-Beam (weak post)
W-beam (strong post)
Gregory Mini Spacer (GMS)
Midwest Guardrail System (MGS)
Culvert Mounted W-Beam Guardrail
Ezy-Guard Heavy Duty
Ezy-Guard Smart
Modified W-beam (weak post)
Non-Blocked BMS2-TL3 Single Steel Guardrail
Nu-Guard 27
Nu-Guard 31
PennDOT W-Beam Guiderail over Underground Structure
RamShield W-Beam Barrier System
Retro-Rail Guardrail Retrofit
Trinity Guardrail System (TGS)
Trinity T-31 Guardrail System
Rustic-appearance Metal Beam Guardrail
The sources of the specific device names are documented here.
Several agencies have created detailed guardrail repair standards and assesment criteria, notably: