The X-Tension is a proprietary, engergy absorbing end terminal orginally designed by Lindsay.
It looks very similar to the MAX-Tension terminal, but can be distinguished by the fact that the rail splices occur on the posts.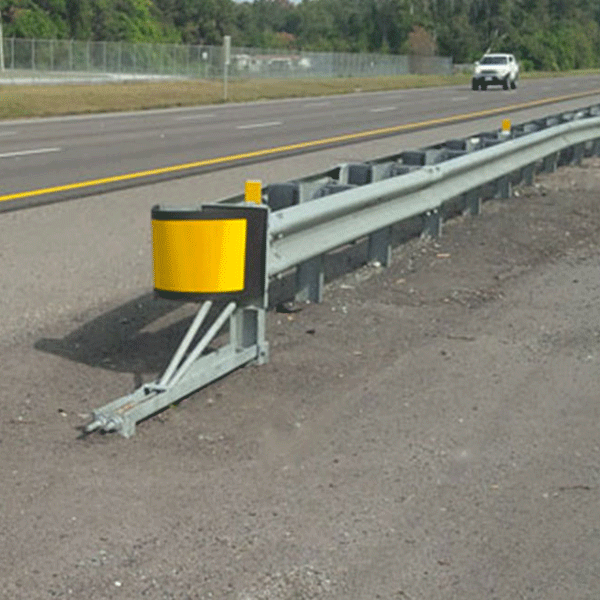 While not currently on Lindsay's website details can still be found on the Australian distributors website:
The world's first and only fully re-directive TL-3 end treatment for W-beam guardrail, the X-Tension® product utilizes unique technology whereby the system uses tension, rather than compression like other systems, to control vehicle impacts. The X-Tension product is also marketed under the X-350™ product name in Australia and New Zealand.
From the distributors website:
In an end-on impact, the X-Tension X-350™ system telescopes and relies on a braking device to contain the vehicle. While for side impacts the anchor design and use of cables ensure that the vehicle is re-directed from post 1. Valmont Highway's X-Tension system can be used in a tangent position and out to a straight flare of 400mm over its 11.4m of length. X-Tension guardrail terminal in a tangent position (0 – 400mm) has satisfied NCHRP 350 TL-3 criteria.
https://tf13.org/Guides/endterminalGuide/index.php?action=view&endterminal=220
https://tf13.org/Guides/endterminalGuide/index.php?action=view&endterminal=219
https://tf13.org/Guides/endterminalGuide/index.php?action=view&endterminal=221