The FLEAT terminal is a proprietary terminal developed by Road Systems.
From the manufacturers website:
The FLEAT (FLared Energy Absorbing Terminal) is an energy-absorbing flared terminal. The flare is straight and the offset is variable anywhere between 2′-6″ and 4′-0″. The FLEAT is 37′-6″ long and has 7 posts. NCHRP 350 APPROVED!
The FLEAT combines the superior performance of the energy absorbing tangent terminals with the advantage of flared terminals in reducing nuisance impacts. During head-on impacts, the FLEAT head slides over the W-beam guardrail. The rail is sequentially kinked or bent as it moves through the head. The kinked guardrail exits the head safely and the vehicle is brought to a controlled stop. When impacted along the side within the length-of-need, the FLEAT functions like guardrail. The errant vehicle is safely redirected back toward its original travel path.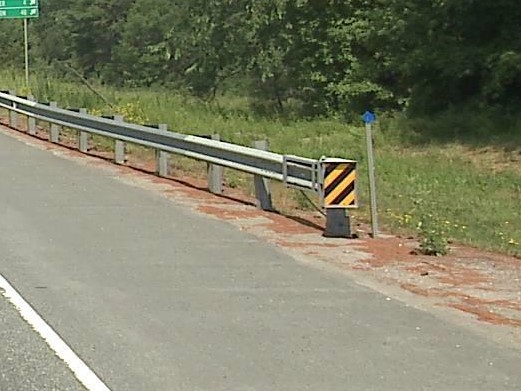 Bolt in Post #3 - the 350 versions of the FLEAT terminal are not attached to the rail at Post #3 despite the fact that there is a hole there. This is a common issue.
https://roadsystems.com/nchrp-350-fleat/
https://roadsystems.com/nchrp-350-fleat-mt/
https://roadsystems.com/mash-mfleat/